Swimming pools
An indispensable component of any relaxing holiday is the aquatic element. This is available in the HOTEL SOVESTRO complex in the form of two fair sized swimming pools set in a reserved and sunny position.
The facilities of HOTEL SOVESTRO are an San Gimignano hotel with swimming pool appreciable aspect of the treatment reserved for guests and also guaranteed to disabled guests thanks to the residential structure which is free from architectonic barriers. These facilities range from the spacious parking area, shaded by the foliage of pine trees, easy access to the swimming pools and the practical laundry room, to the most intangible, courteous and discreet attention of all our staff, prepared to supply any kind of assistance and information on the facilities available in the neighbourhood.
Both the amenities of the surrounding hilly countryside and the proximity to cities of art of the calibre of San Gimignano, Sienna, Certaldo or Volterra strongly encourage walking excursions and cultural trips of all kinds. In the vicinity of HOTEL SOVESTRO, it is also possible to perform the following activities: trekking, mountain-bike and motorcycle hire, tennis, golf, horse-riding...
---
---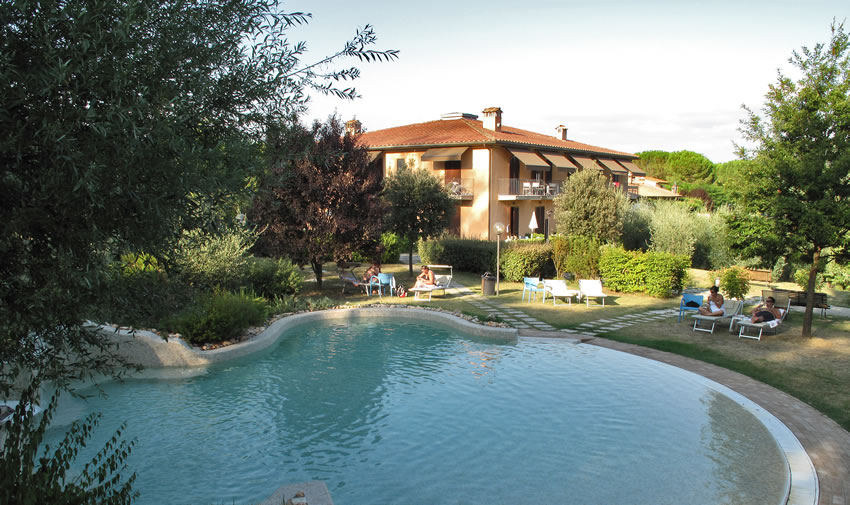 Gymnasium
SMALL but BIG for those, who want to be in shape even far from home. Devised by the HOTEL SOVESTRO as a place of maintenance for sport lovers, it respects the basic features of a professional gym. It is situated in one of the rooms of the ancient Tuscan farmhouse and was built with the aim of offering you a service during your stay, which could compensate for the lack of your favourite fitness centre from home.
We have done everything with you in mind, so that you can keep feeling fit in good shape.
SMALL: because it has been built on a surface of approx. 60 square-meters, fitted with toilet facilities; LARGE: because you find within it all the equipment which will help you keep in shape during your stay.
In the fitness room, the HOTEL SOVESTRO has at your disposal the latest generation BH Fitness machines:
MULTIGYM G152X, tools concentrating on all parts of the body
TAPIS ROULANT
SPILLING H920
ELLIPTICAL BIKE WITH ELECTRONIC MONITORG864
ELECTRON BIKE WITH ELECTRONIC MONITOR H8715M
BECH G320
AB-ROLLER
KETTLER with weights from 1 to 10 Kg
PADDLER
HEADBOARD
GYM BALL various sizes
Everything is soaked in a pleasant and comfortable environment, where your time becomes harmonized with music or news- video to entertain you during your training.
---